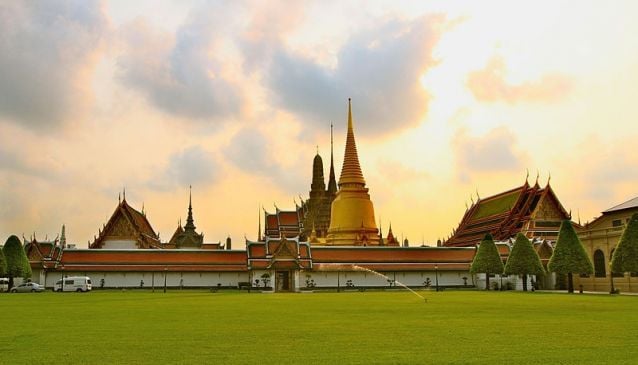 Top 10 Things To Do in Bangkok
Arts & Culture
At night, Khao San comes alive with market traders, pad-thai sellers and the sounds of the footloose
An exciting, exotic, and enthralling modern-day metropolis, Bangkok is a vibrant mix of bustling city streets, dazzling dining and exuberant nightlife. A city of colourful culture and ancient wonders, there's a veritable feast of engaging things to do in Bangkok to suit all ages and all interests.
My Guide Bangkok has compiled the Top 10 Things To Do In Bangkok, with some suggestions of where to go and what to see and do. Of course, this is just the start and a taster of some of the city's highlights.
1. Grand Palace
The Grand Palace has to be top of the list because it is the ultimate 'must-do' on any trip to Thailand. It is Bangkok's jewel in the tourist crown of sightseeing wonders, but more than that, it is an authentic symbol of Thailand's spiritual centre; the crowning glory of its history, culture, and reverence for the monarchy. Built in the 19th century, The Grand Palace was the official royal residence until the 20th century, and the architecture and grounds dazzle. This was also the administrative center as well as the Mint, so government buildings surround the inner court which was once home to the ladies and children of the royal court. Wat Phra Kaeo, or the Temple of the Emerald Buddha, is in the grounds too, and regarded as the most sacred temple and Buddha in the country. Cover up or hire clothes at the entrance. Don't point your feet at the Buddha. Start in the morning and give yourself a few hours with an audio guide.
2. Wat Pho Massage
You absolutely cannot come to Thailand without experiencing an amazing massage and what better place than in the tranquil grounds of Wat Pho. Amble round the chedis and pay your respects to the famous Reclining Buddha before relaxing the body and mind. Wat Pho is home to a renowned massage school and although you'll pay a bit more than some of the spas on the street the cost is still more than affordable and well worth it. Yes, Thai massage can hurt and at Wat Pho they do dig in! Ask for 'bow bow' if you want less deep-tissue style. If you want a softly softly approach go for a soothing oil massage or Thai herbal balls. If you have the time then 90 minutes is far better than an hour. Don't forget to try a foot massage before you leave too.
3. Chatuchak Weekend Market
On either Saturday or Sunday, head out in the morning to beat the heat and the crowds at one of the largest markets in the world. Chatuchak Weekend Market, or JJs as the locals call it, is more than just a shopping experience. It is a Bangkok institution and a holiday 'must-do'. Cheap and cheerful JJs is a shopping extravaganza of cutesy walk-in stalls selling clothes, art, ceramics, jewelry, and even antiques. If you can't resist buying something for home then head to the overseas parcel stalls who are used to packing up goods and shipping abroad.
Don't miss hip bar Viva with its upbeat music, liquid refreshment, and huge plates of paella and other fresh lunches fried up with flair in the enormous outdoor flat woks. Grab a map at the entrance and arrange to meet at the clock tower if you get lost. There are lots of fresh streetside cheap eats just before you go into the market, right by the park, and one air-con restaurant inside that's a bit pricier. You can also buy market snacks and sit on the green grass after your shop too. As soon as you go into the park you'll be offered the chance to rent a mat for very little to sit on for as long as you like. It's worth it if you've shopped until you're about to drop!
4. River Cruise
There's something magical and magnificent about Bangkok's Chao Phraya River, with its river-life of wooden houses, luxury hotels, and immense rice barges moving slowly up and down the water. At night the lights twinkle and you really get a sense of Old Siam with a cruise that takes you past temple sites and the wonder of Bangkok's dazzling palaces. One of the oldest and most highly regarded river cruises in Bangkok is the Grand Pearl. You can dine by candlelight aboard a luxury yacht-style cruiser, with fine oriental and western cuisine, live music, and a traditional Thai dance show. With a panoramic open-air deck and air-con dining, a river cruise under the moonlight is an evening that is memorable for being special and inspiring a romance with Thailand that will last a lifetime.
5. Khao San Road & Rambutri
The most famous road in Bangkok is surprisingly small. Khao San is a haven of young travellers with its so-called 'bucket-bars' where backpackers sit on plastic seats on the road with buckets of rough-and-ready cocktails. At night, Khao San comes alive with market traders, pad-thai sellers and the sounds of the footloose and fancy free. While it may have the just-come-from-the-island feel to it, there are some hidden gems worth visiting, such as rooftop bar Gazebo with its Moroccan feel and the vibrant ska tunes of the renowned Brick Bar. If you're looking for something just a little bit more chilled out then cross the main road and head to the top end of Rambutri instead. It has just the same quirky boho appeal but with a more relaxed vibe. Sit at one of the outdoor bar tables and watch the world go by in all its colourful glory. Head up toward the river and seek out The Deck at sunset for a perfect view of Wat Arun as the sun goes down on the Temple of Dawn.
6. China Town
Just when you think that Bangkok can't get any busier, you arrive in China Town. Here the tuk-tuks drive faster, the roads seem more chaotic and the shops and stalls stranger. The narrow walking pathways of Sampeng Lane market can tire out even the liveliest of visitors. As the stallholders are not looking for tourist trade China Town gives you a glimpse into real life Bangkok, albeit in the midst of bulk buying and Chinese herbalist outlets. The best China Town experience is to drop by just after dark and sit at one of the rickety outside tables at the beginning of Soi Texas. Order amazingly huge, succulent barbequed prawns that come with sweet and spicy dips, and crab fried rice, as the never-ending buzz of one of Bangkok's oldest districts makes you feel 'alive'.
7. Muay Thai Boxing Match
Even if the thought of boxing doesn't appeal, Muay Thai is not just simply a contact sport in Thailand. It is a defense martial art, as well as an expression of the history and culture of the country. Accompanied by unique traditional music, called the 'sarama', Muay Thai involves pre-fight rituals and even dance. Walk down any street away from the tourist trek at the weekends and you'll see groups of men sat around the TV gripped by the victories of their national sport. Thais are proud of their Muay Thai heritage and passionate at live matches which you can see on different nights of the week at Lumpini Stadium and Ratchadamnoen Stadium. Expect to pay more if you are a non-Thai. If you want a hands-on experience try a drop-in class at Chacrit Muay Thai School or book a longer course.
8. Jim Thomson House
Before mysteriously disappearing in Malaysia after a post-lunch stroll in 1967, Jim Thompson was famed for reviving and ultimately saving the Thai silk industry. American born, Jim Thompson is now one of Thailand's most recognized brands of fine silks, textiles, and home products. Coming to Thailand and not going away without a Jim Thompson souvenir is rare and the entrepreneur's name is synonymous with luxury, quality and the finest taste.
A visit to Jim Thompson's beautiful wooden 'house by the klong' is like stepping foot into a Thailand that you only thought existed in your imagination. The fact that it is right in the busy city areas only adds to its exotic charm and makes it one of the most visited hidden gems in Bangkok. Completed just eight years before its owner went missing, Jim Thompson's house has virtually remained the same and is a treasure trove of Asian antiquities and eclectic style. Renowned for being the social center of the city, you can only imagine the gatherings and parties that would have happened here. While the tour is interesting, the best part is soaking up the atmosphere and taking beautiful photos.
9. Green Spaces
After a few days in Bangkok, even the most avid city-lover needs to see some greenery. One of the biggest expanses of green is Lumpini Park by Silom, where you can stroll around, cycle, or take to the lake on a peddle-boat. The beauty of this park is that you can just sit and be surrounded by green spaces. It's nothing special beyond its size and location. A small but lovely park to visit, especially at sunset, is Benjasiri Park. Right by Sukhumvit's towering Emporium shopping mall, the park comes alive as the sun sets, with fitness enthusiasts, walkers and joggers, and love-birds. Children run around the two playgrounds, adults sleep on blankets on the grass, and agile young Thai men play a type of foot volleyball called sakraw with a rattan ball. Meanwhile, at the entrance fan dancers practice tai-chi and in early evening the fountains dance, and all feels good with the world.
10. Skybar
It has to be the ultimate view of Bangkok and what a cityscape it is; Skybar at luxury hotel lebua soars above the city 63 floors up. While it can get crowded because of its 'must-see' status, the views make it worthwhile, even if you just pop by for one or two cocktails. The sweeping staircase seems to float through the sky, while the glass walls of the circular bar create a buzz of excitement and a flurry of cameras clicking. The restaurant is surprisingly intimate and has a special occasion feel, perfect for honeymooners and proposals, but with a pricey selection, you might want to enjoy the view and head back down to earth for dinner. Head to the other outdoor bar area which has chic leather seats to lie down on and a much more chilled-out lounge feel. Yes, there are other rooftop bars but this is Bangkok's most iconic.