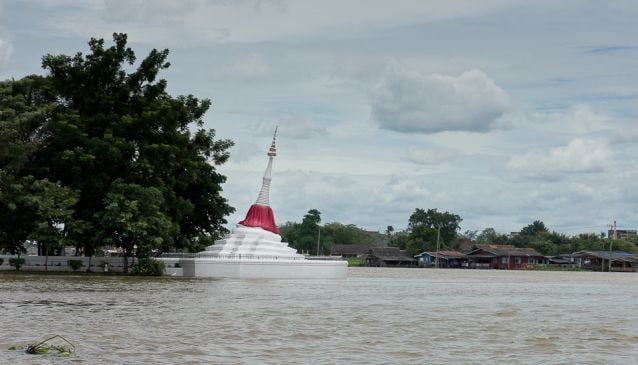 An Island in the City
Arts & Culture
What it lacks in pizzazz it makes up for in peace and quiet...
Hopping onto an island for the day without leaving Bangkok sounds like a guidebook gone wrong, but actually it's not only possible but a nice little trip for the morning or afternoon too. Ko Kret is in the north of the city in the Chao Phraya River, and if you get a bus, taxi or ferry to Wat Sanam Nua Pier you can then take a quick boat ride across to another world. The island's people are mainly Mon, an ethnic group originally from Myanmar. It was the Mon people who are credited with spreading Theravada Buddhism in Thailand and there is a sense of the traditions and culture on the island. What Ko Kret is renowned for is being the only place in Bangkok where cars are not allowed and also for the baked red clay unglazed pots which are on sale in all shapes and sizes, just about everywhere on the island.
Ko Kret is a green, step-back-in-time type of place where you go to essentially have a mooch around and buy some cheap pots. If you're more than happy with the dynamic, exciting city sights and sounds of Bangkok and have no interest in looking at pots then Ko Kret might be one to miss. However, what it lacks in pizzazz it makes up for in peace and quiet and the wooden shack style houses, old temples and village ambience of Ko Kret are a good way for families to chill on holiday. Like many quiet places, they often get too busy because of that very fact. Whilst during weekdays many people shut up shop making a visit to the island a little too dull, some weekends can be really busy, and as you walk down the narrow path by the shops you might think you have more space on Bangkok's main market roads of Sukhumvit and Silom.
There's not really much to see and do in Ko Kret which might not sound much of a selling point but actually it is. A path winds around the island and there are a few tiny little places to stop off for lunch and the shops sell some other interesting souvenirs as well as pottery. However, there is no doubt what the main product is on Ko Kret and once you leave you might feel that you have seen more pots then you ever want to see if your lifetime.
There are temples, a museum and kilns to see around the island but the best approach is to simply set off and amble around. The walk really takes just over an hour but by the time you get out of the shopping streets you might want to get back to the pier a little quicker and you can rent a bike, hop on a motorcycle, or find a water-taxi to take you round the island. Travelling past wooden huts, jungle plants and tropical flowers is what makes Ko Kret worth the visit. There's a flower garden along the way which is worth a walk round to see blooms that you never even knew existed. The walkway and water makes this seem like a gentile, secret garden.
There are tours to Ko Kret with an English speaking guide and these tourist boats leave in the morning but although it does take a little effort to reach, Ko Kret is the perfect place to get to on your own. There is accommodation on the island too but choices are pretty limited so it's not the type of place you can pitch up and expect to find somewhere to stay necessarily and after a few hours of peace you might feel stranded rather than happy to stay depending on your viewpoint.
Whilst the shops are dependent on weekend visitors and this gives the island a need for tourists, many of the people who come to Ko Kret are people living in Bangkok who need a bit of a breather. Many tourists from abroad often don't find the time to visit places like Ko Kret and those who limit their time to explore Bangkok often find they miss out on not necessarily coming off the beaten track but being able to see a different side of the city, and a different side of Thailand beyond the white sandy beaches.