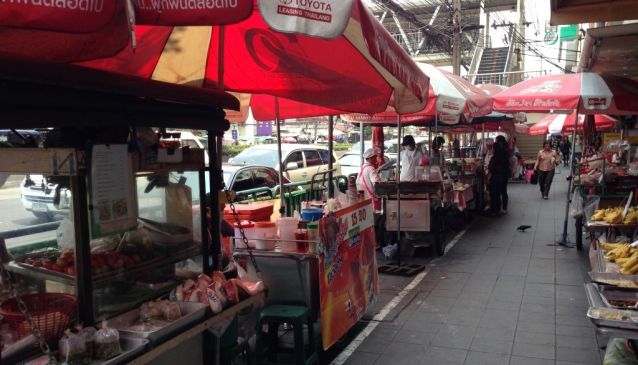 Street Eats
Adventure
What's great about Street Eats is that these dishes are about as fresh as they come.
Flaming woks light up the sidewalks like pyrotechnic stage shows; the fresh aromas of ginger, chili and sweet Thai basil swirl around and entice your senses; creative dishes of sweet, sour and spicy flavors appear as if by magic; nothing pulls visitors to Bangkok more than the lure of its street food culture.
It's here that you'll taste the real Thai food that the real Thai locals eat. And while you'll definitely want to sample some of the city's outstanding eateries, one of the best ways to explore the real Thailand is to go on an appetizing culinary journey, discovering the city's amazing array of Street Eats from every corner of the land.
Be it 6am or midnight, any time is the right time to take a pit stop and grab a steaming plate of Thai food. Bangkok isn't so much the city that doesn't sleep but the city that doesn't stop eating! With the locals thinking nothing of grabbing small dishes throughout the day and night, the best approach is to grab one of those small plastic chairs and join in what has to be one of the most enjoyable Bangkok pastimes. And what's even better is that not only are Bangkok's Street Eats wonderful but they are wallet-friendly too.
What to eat
What's quite clear at most street food stalls is that Thais don't usually bother too much with a menu. They know they can mix and match and they know what different dishes are on offer. However, for the Bangkok visitor these street stalls can be a confusing culinary conundrum. There's nothing wrong with the point and order method of course, but here's a few dishes you might want to try:
Pad Thai: Stir-fried noodles with tofu, beansprouts and peanuts, served with a slice of lime and spring onions. It's a Thai food must-eat that everybody loves, with many stalls only serving this one dish up. What's great is that it's such a visitor favorite that the signs are often in English too.
Kao Kana Moo Grob: The darkest green leaves stir-fried with chili, garlic, oyster sauce, soy and sugar, with slices of wonderfully crispy pork belly, on a soft bed of steaming rice. Once you've tried this Thai equivalent of comfort food it's hard to not keep ordering it again and again.
Kao Phad Bplaa Meuk: Fried rice with an egg, tomatoes and squid. Simple and fresh. With a squeeze of lime this is one of the best lunches to grab on the go.
Krapow Gai Khai Dow: If you thought Thai green curry was the national dish then think again. A spicy fried mixture of Thai holy basil, ground chicken and chili, on fluffy rice, with a fried egg is probably the most popular dishes amongst Thais.
Sen Yai Kee Mau Gung: Drunken prawns with flat noodles. This is about as close to Italian style food you're going to get on the streets of Asia. The noodles taste wonderfully doughy like pancakes and the tomatoey bite of the sauce with the fresh tail-on prawns is a classic flavor combo.
Hoy Tod: Look out for the big flat woks for this classic oyster omelet with bean sprouts. The crispier the better, it's much more flavorsome than it sounds and just about one of the best night snacks you can get, although probably not the healthiest option!
Ba Mee Nam: Grab a small ladle spoon and some chopsticks and dig into some noodle soup. One of the best comes with pork and wontons. Don't be fazed by the mix of sugar, dried chili, vinegar and fish sauce. Splash in and taste to customize your soup just the way you like it. This is the ultimate morning after the night before must-eat.
Gai Yang, Khao Niew & Som Tam: A taste of the rural North-East. Don't miss the barbecued chicken on every street and the food of Issan. With Bangkok full of people who've come from the countryside, there's a real love of this style of Thai cuisine. Make sure you ask for some sticky rice as it's usually keeping warm and hidden from view. Pick up some green mango salad which has to be the one dish that says it all when it comes to what Thai flavors are all about.
Kao Man Gai: When you see the boiled-looking chickens hanging up, do not hesitate, especially in the mornings. The chicken breast is velvety, the rice has a rich oily taste and the soup is clear but packs a flavorful punch. Drizzle the sauce over the rice and feel your energy and life force being restored! Yes, it is that good!
Jim Jum: You'll know you're totally at home in Bangkok when you suddenly find yourself relaxed on the street and sharing this clay hot pot on a hopefully steady bed of burning charcoal. Add whatever you want to the broth. The trick is to let it simmer a little at first and then eat and add continuously. Put all the herbs in to start and look to the other tables for inspiration. The locals have hot pot eating down to a fine art.
What to look for
Don't fall into the potential food poisoning trap of thinking that all of the city's street food stalls are the same. Yes, they are all pretty rough and ready, but it's easy to ignore signs that should be putting you off your appetite all in the name of authenticity.
What's great about Street Eats is that these dishes are about as fresh as they come. While the locals will dip into big pans of curries that have already been prepared, it might be best to stick to stalls where each dish is made there and then.
Look for quality ingredients, oil that looks like it's been changed recently and of course, lots of customers. With so much choice there's big competition and a quiet stall that looks a little stale is best avoided. Follow your gut! No pun intended!
Where to go
If you were to look at a map of Bangkok's Street Eats then you'd soon realize that wherever you go you're pretty much within fisherman pant swirling distance of a veritable feast of flavors. There are certainly stand out stalls, but if you're busy experiencing all that Bangkok has to offer then you're better off heading to renowned foodie hotspots:
Shopping Malls – You may pay just a little more but if you want your street food in air-conditioned comfort then head to the Thai food courts of Central World, Siam Paragon or Emporium. One of the best is found at Terminal 21, a quirky shopping center that serves up sweet and savory treats.
China Town – Soi Texas is China Town's answer to street food and the crowds can't get enough. Arrive as the sun goes down to get a seat and order the amazingly succulent barbequed prawns that come with spicy dipping sauces. Order a plate of khao pat boo (crab fried rice) too.
Sukhumvit Soi 38 – Well-known in Bangkok as an evening foodie street, open until the early hours, this small soi right by the Thong Lor skytrain station offers just the right mix of Thai foods. Try the pad thai (stir-fried noodles) and (khao niew mamuang) mango with sticky rice and coconut milk. Delicious! Give yourself time though, even if it doesn't look too busy, you'll notice the flash cars stopping by to pick up orders that have been rung through by busy city workers.
Silom & Soi Convent – You might pay just a tad more in this tourist enclave but especially down Convent, there are literally food stalls upon food stalls. This is a perfect place to grab some carbs before a night out or after haggling at Silom and Patpong's busy market.
Tha Pra Chan – Right by one of the busiest local markets and Thammasat University, avoid as the clock strikes midday as the crowds of students can be intense. This is street food by the river where the market street-style restaurants have a charming ramshackle feel.
Wang Lang Market – Where there's a hospital there's people, and where there's people there's always food. While you might not want to make a special trip to the home of Siriraj Hospital, if you're heading in this direction along the river then drop by for one of the best rotis you'll ever eat just as you come out of the market at the pier.
Victory Monument - Aside from catching a mini-bus to travel out of the city, you might find yourself in this swirling hubbub to watch some stonking good live music at nearby Saxophone. You can't miss the square full of mainly young teens who flock to the night market here. The noodle soup is nourishing and rejuvenating and before you know it you'll fall in love with the city all over again.
Over the River – As the skytrain extends beyond the river and Saphan Taksin, visitors are exploring and staying in Thai neighborhoods that used to be off the beaten track. One must-stop stall is about 10 minutes' walk from Wong Wian Yai station, on the corner of Charoen Rat Soi 1, where you'll find the best baked crab with rice noodles you will ever eat. Top quality ingredients make this one of the priciest Street Eats, at 280 THB, but the crowds waiting patiently in a city where food is served up before you even sit down, says it all.