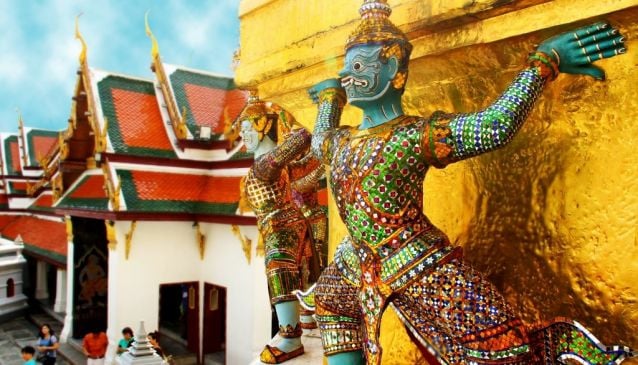 Massage, Muay Thai & Temples in Bangkok
Bangkok
Bangkok is chaotic, loud, dirty, and intense, but it is a city that gets under your skin...
Bangkok is a city unlike any other on earth. The capital of Thailand is a heady mixture of temples, tuk-tuks, and tourists that move so fast it will make your head spin. It is chaotic, loud, dirty, and intense, but it is a city that gets under your skin and keeps you coming back for more. It's also a crossroads for travelers, and it seems like each time you visit you'll either come across an old friend or meet a dozen new ones.
In our case, we crossed paths with our friends Giselle and Cody from Mindful Wanderlust, fellow finalists in the Biggest Baddest Bucket List competition and advocates of compassionate, animal-friendly travel. They were in town en route to Chiang Mai to volunteer at an elephant sanctuary, but we managed to meet up for dinner and swap tales of our recent adventures.
While they moved north, we found plenty to do in Bangkok, and devised a three-point plan of how to get under the city's skin: see the sights, do some local activities, and simply wander the backstreets.
We started with the sights, spending a day along up the River Chao Praya, the river around which Bangkok was built. We hopped in a long-tail boat and disembarked before the Grand Palace, the former home of Thailand's royalty and certainly one of the most opulent in Asia.
Next door is the Wat Pho Temple, home to the Reclining Buddha. Around 95% of Thais are Buddhist, and this temple is just one of many that dot the skyline of modern Bangkok. Monks are supremely respected, and foreigners are often surprised to find "reserved for monks" signs on the metro.
Given Thailand's respect for the Buddha and his teachings, it can be hard to reconcile the principle of non-violence with Thailand's national sport: Muay Thai, or Thai kickboxing. It's a brutal martial art, as we learned by taking our first classes at Chacrit Muay Thai School. On our first day we learned the basic punches, elbow-jabs, knees-to-the-gut-move, and high-leg kicks, and soon felt the confidence of mastering a new sport. Then our instructor kicked us in the head. We would not master Muay Thai any time soon.
After that, we were ready for something a bit lighter. We met up with Follow Me Bike Tour for a bike ride around the city. It was crazy. Bangkok is not a city designed for bicycling any more than Paris for smoke-belching tuk-tuks. Our route was carved out of a wending path of back-road lanes that took us between houses, along canals, through people's laundry lines, and into the grounds of mellow neighborhood temples. In short, we saw a side of the city we normally wouldn't have experienced.
However, the best way to experience Thailand has to be through its food. Thai cooking is amongst the best in the world, and while we'd spent the week eating street food in various Thai markets, it wasn't until we stepped into the kitchen with the Bangkok Thai Cooking Academy that we truly appreciated the dishes we'd been so ravenously devouring. From Green Curry to Papaya Salad and Chicken Satay, Alex and I learned some new recipes and challenged each other to a cook off. Alex won, and I was forced to eat a red-hot chili as the losing prize.
For the final activity of the week we indulged at the Oasis Spa, an upscale spa experience in a quiet corner of this chaotic city. We enjoyed the hour-long Thai massage, which combines stretching with acupressure and relaxation techniques for one of the most restorative massages in the world. At Oasis we allowed our muscles be stretched and massaged back to normalcy after what had been one of the more fast-paced weeks of the trip. The following morning we headed to the airport and caught our flight to a city that could not be more different than Bangkok: Singapore.
Want to know what's next in store for Marko and Alex? Then keep an eye on our blog and tune in to BBBtv…