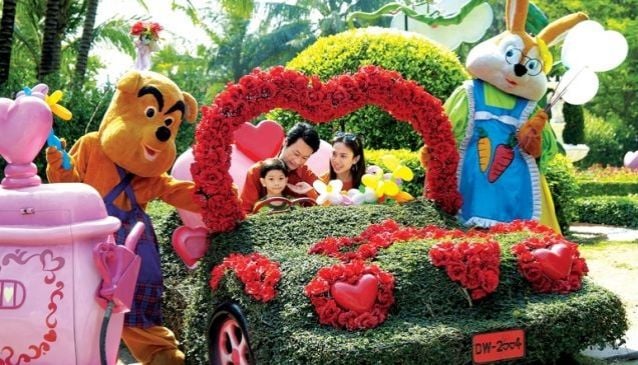 Bangkok For Kids
Adventure
Bangkok is an entertainment capital where kids can experience the excitement of the big city.
Just because Bangkok takes grown-ups on a whirlwind tour of shopping, nightlife and dining, sightseeing and spas, doesn't mean that it's not a city build for kids. It is! In fact, there's so much to do that the only challenge is working out how to fit it all in.
Bangkok is a city of action and adventure with exciting activities and adrenaline-fuelled pursuits for youngsters. Bangkok is an entertainment capital where kids can experience the excitement of the big city. Bangkok is a dining paradise which serves up not just child-friendly restaurants but some quirky eateries that kids love. Bangkok has pockets of greenery where kids can enjoy and explore nature. Bangkok offers kids something different; a chance to jump into a whole new world.
Action & Adventure
With the beautiful hot weather in Thailand, kids can become tired from too much walking about. Instead, choose child-oriented activities they can enjoy more easily. Bangkok might not be by the beach but you can still surf a wave at the city's Flow House where you can ride a flawless ocean wave. Great for kids of all ages but better for teens and older.
Want to enjoy the thrill of amusement park rides and hurtle down water slides? For youngsters this is the perfect combo for a day out and Dream World, which also has a snow town, and Siam Park with its wave lagoon, are full-on made-for-kids days out.
If you're looking for some air-conditioned fun then Kidzooona and Funarium offer adults a chance to cool off as youngster dive in ball pools in their own indoor adventure playground.
Entertainment
After a few action-packed days the best way to unwind, family-style, is with a trip to watch a movie. Conveniently housed in the city's big shopping malls, you'll find IMAX and 3D films, as well as exclusive cinemas with big bed-like chairs and even a waiter serving you popcorn!
Stay close to Paragon shopping center and you can enjoy a holiday-classic with a visit to Madame Tussauds which is located in Siam Discovery center. Here kids can jump on stage with their favorite pop stars and perform with waxwork celebrities in the music zone.
Less relaxing but a haven for cheap and cheerful buys is MBK which any child over seven is going to enjoy but best avoided with smaller kids. This is a Thai teenage hangout that sells just about everything.
Add some culture to your trip with a visit to Asiatique with its shops, shows and restaurants right by the river. Perfect for an evening visit where kids can watch Thai dancing and wander around to pick up souvenirs.
Dining
From high-end restaurants to local eateries, Bangkok's dining menu stretches from affordable to extravagant and across every continent. Even sitting by the street with a fresh rice dish is a novelty for kids as they watch the dramatic wok-frying action.
Thais love cute and quirky and this is reflected in some really different restaurants too which will definitely appeal to kids and the young at heart. Although away from the main tourist drag, being served by a machine makes a meal out at Hajimie Robot Restaurant a must, with Japanese and Thai food to enjoy too. A restaurant with a menu of pancakes in the shape of teddy bears and a build-a-bear workshop; little ones can't ask for more than a trip to Teddy's House Kitchen by the shopping malls at Siam.
Bangkok is home to barbeques and hotpots and this interactive style dining makes for a fun family meal out. Kids can help grill raw foods at tabletop barbeques or throw an assortment of what they like into a bubbling hotpot broth. This style of dining is relaxed, fun and perfect for kids who love to try new foods or fussy eaters who only want to eat their own selection!
Nature
Enjoying green spaces and wildlife does not have to be a token effort during your stay in Bangkok. While the city might be more urban jungle than tropical rainforest, there are parks like Lumpini near Paragon and CentralWorld, and Benjasiri near the Emporium shopping mall where you stretch out on some green grass and chill out while kids cycle or play on the swings. Rot Fai Park near Chatuchak Market rents out cycles and has a lovely Butterfly Garden too.
Go and see big game, sharks, reptiles and catfish during your stay in the city. You can make a half or full-day event out of exploring nature with a visit to Siam Ocean World and a trip to Safari World. For a more low-key day out try Dusit Zoo or watch venom being collected at the Snake Farm which kids love! If you're walking about near the river or by water then look out for fish food for sale and watch how big the catfish are as you enjoy the simple pleasures of feeding the fish!
Something Different
You're probably looking forward to a massage and maybe some relaxing spa treatments while you're in Bangkok. Well, there's also pampering for little misses and masters too. Where else can kids get a facial, body scrub and massage than at My BeBe Spa, while adults shop in the baby boutique!
And while kids can be all grown up with spa luxury in the city, they can also work out what they want to do with their lives with the amazing Kidzania, a mini city where youngsters role play different jobs, whether jumping in a fire engine to put out a fire or working as a construction engineer!
For youngsters who love comic book action then Thailand's largest toy figurine collection, with 50,000 pieces, at Batcat Museum is a must for all would-be action heroes and heroines!
Thais welcome children with open arms and their natural sense of fun and humor, along with their child-friendly attitude, makes Bangkok a city that's wide open for kids; a dynamic city that is ideal for kids to experience and explore.
Picture Credit - www.dreamworld.com
- www,en.wikipedia.org
-www.facebook.com/HajimeRobotRestaurant
- www.dusitzoo.org