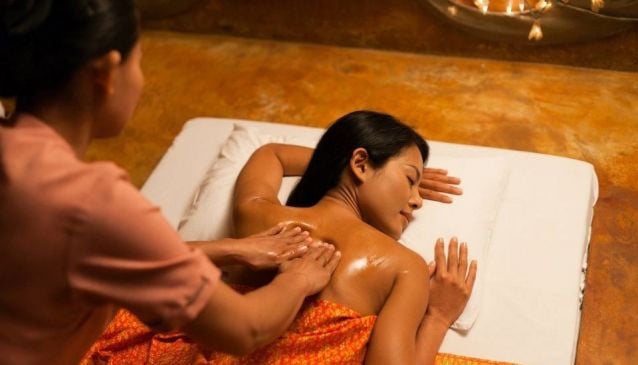 Bangkok Kneads You
Inspiration
If you like the idea of being pummelled and pampered then the city is paradise.
You can't walk very far in Bangkok without coming across the ubiquitous massage shops and spas, and if you like the idea of being pummelled and pampered then the city is paradise. Not only that, but it's affordable paradise as well. A whole day or being rubbed, kneaded and beautified might be what you do for a really special occasion back home but in Thailand unless you are on a really tight budget it's what you can do every day, all day if you like, and it's worth making the most of it if you want your holiday to be a real chilled-out experience. But what you need to know is that when it comes to Bangkok kneading you there are some handy pointers to think about:
Don't Be Frightened – often visitors are a little worried about what type of massage parlour they might be walking into but the golden rule is to look out for the reflexology foot symbol that often adorns the windows of massage places. Look at the name and the style and just use your gut instinct. There are some good quality massage places right on the street which have a relaxed atmosphere with comfy seats and which are not designed in a grand way, such as the ever-popular Nuch on the side street next to Emporium, the luxury mall at Phrom Phong skytrain stop. A popular place is in the grounds of Wat Pho which has a renowned massage school attached. Being able to wander around the stupas and chedis and then drift into luxury relaxation is the perfect holiday treat.
Thai Massage – if you can never have a Thai massage for an hour as it's just not long enough to really get into your knots and deeply relax you. Have at least 90 minutes, and if you want to really benefit then two hours is worthwhile. There's a lot of stretching and bending your limbs in Thai massage and kneading with the hands and even the feet, so it can feel a little like a mini-workout, albeit with your lying down and not being in control of your limbs. For bodies not used to being prodded and poked it can be a bit painful in a pleasant kind of way but don't be afraid of asking, or perhaps yelping, for it to be 'bow bow', or soft, if the pressure becomes a bit too much to handle. If you ache a little afterwards the best thing you can do is go back and have another pounding a day or two later.
Tips – most visitors have their own ideas about tipping and you will no doubt want to do right by the customs of the country too. Whilst you want to relax and switch off it's nice to share the good feeling and remember that the person who has been looking after you only gets paid per massage and this is a cut of the price. An acceptable amount is 50 Thai baht per hour of treatment or up to 100 Thai baht per hour of treatment if you really want to bring a genuine smile to the face. For an hour and a half, for example, 100 Thai baht would be just about right.
What Not to Do
– whilst facials with steam and mani-pedis are another totally luxurious holiday non-activity, perhaps to be done in-between a Thai or oil massage, be aware of simply walking into a salon and expecting them to know exactly what to do with your hair, and even if the price is tempting don't go for a colour unless the salon has been recommended. There are some stylish, high-end salons in Bangkok of course, but in general
hairdressers
are not used to the styling non-Asian hair and are often so worried about getting it wrong that sometimes that's exactly what happens. You might be used to nipping in to get your eyebrows plucked, waxed or threaded but again styles are different in Thailand and some salons use an eyebrow razor. When it comes to false eyelashes there are some amazing deals to be had with natural looking lashes applied individually but it's worth going to reputable salons and paying a bit more, and a popular branch people swear by is Take Care which has branches on
Sukhumvit
and
Thong Lor
.
Legs Vs Body – whilst full-body Thai massages, where you wear soft cotton pyjamas, are ultimately relaxing sometimes you might just not really want to get undressed but still want to sit down and relax for an hour. A menthol balm is firmly smoothed over your legs and feet with a Thai foot massage and it is the ultimate way to revitalise your whole being after tramping around the streets of Bangkok. A good tip is to first of all sit in the chair to see if it is really comfortable. Some places geared towards Japanese customers choose harder seats whilst many non-Asians like to sink into a softer, more comfortable armchair type feeling before usually drifting off to sleep. Two places on Thong Lor allow you to lie back for a foot massage Praiphana, and Sumalai are just between the side roads Thong Lor 7 and Thong Lor 9. Here your arms and much of your body will be massaged as well as you feet. Many massage places offer packages with a feet and body combo, and another good way to mix up the kneading is to have an hour's foot massage with 30 minutes head, neck and shoulders.
Luxury Vs Mom and Pop
– if you want to have a whole day of pampering where you are padding around in slippers, having your feet soaked in flower petals, and lying down in a beautiful serene space with soft lights, candles, and Asian décor, then paying a bit more is definitely worth it, and often the prices are not that much higher.
Asia Herb
is designed beautifully and here they make their own muslin balls of herbs which are steamed and then pressed against the skin to give a deeply soothing warming feeling that helps ease away the tensions and relax the muscles. The prices are mid-range and still more affordable than you'll probably find at home.
Really cheap places can be found of course, and although the massages might be great don't be surprised if your relaxation is interrupted by loud chatting amongst the masseuses, not to mention breaks as they have a quick chat on the phone, discuss the lottery and shout out to customers who come rattling through the door. Visitors to Thailand are always surprised that the mom and pop salons don't really buy into the soft, gentle ambience they expect from a Thai spa. However there are lots of places that are not at all fancy that offer a quiet space but it is the pricier spas that promise serenity.