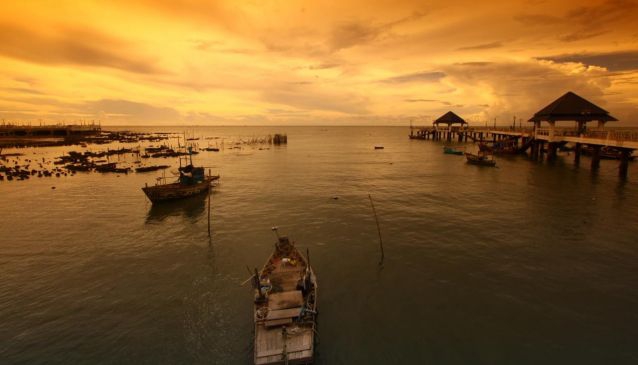 Bangkok's Beach
Family Fun
What it does have in spades is a lovely, almost old-fashioned charm.
Okay admittedly it's not exactly right in the middle of the city but a few visitors to Bangkok realise that there is a beach just 40 minutes away from the busy metropolis. Bangsaen is down the east coast on the way to Pattaya, famous for its beachfront hedonism, as well as the more sedate Jomtien and ever peaceful Jomtien Na with its white-golden sands. Bangsaen is totally off the tourist track and is much more of a locals' resort which gives it a classically Thai feel. If you have been exploring the rich colour of the city and need a break from it all, then Bangsaen is a nearby antidote to busy Bangkok.
It has to be said that Bangsaen Beach is not what you might call pretty, so don't expect white sands and clear blue seas. The sand is more of a light brown and the sea can get a bit litter-strewn later in the day. However, what it does have in spades is a lovely, almost old-fashioned charm. Tables with deckchairs are grouped together under huge tarpaulin covers as Bangsaen is popular with groups of friends and families who couldn't think of anything worse than not sitting in the shade. Ironically, it seems that sun-shy Thais often wear more at the beach than they do when they are walking about in air-conditioned comfort. In fact, so few visitors from abroad visit Bangsaen that the sight of anyone sunbathing or wearing a bikini will attract attention and definitely a few stares from those who are curious about your seemingly strange behaviour! Many Thais you meet in Bangsaen, despite it being so close to cosmopolitan Bangkok, have never even seen someone from another country before, but the most you will get are friendly smiles as most Thais will be far too shy to approach you.
Behind the sand is a pedestrianised walkway where tandems and bicycles for four people can be cheaply rented and there are always a few wobbling along. At the side of this path are small barbeques selling grilled squid and huge prawns, and stalls bashing mango, chilli and lime for spicy somtam salad, alongside big racks of hot-off-the-grill chicken. Small steamed crabs with a green chilli dip are a Bangsaen must too. Forget over the top prices for seafood aimed at the tourist market, Bangsaen is reasonably priced and the food is fresher than fresh, and you can even order at your deckchair too.
Fun in the water is had on banana boats and inflated rings, whilst there's a constant stream of vendors walking along the shore selling everything from candy floss, battered shrimps and hard boiled quails eggs with vinegar, and of course fresh fruits which are sold just about anywhere and everywhere in Thailand. Masseurs offer at-your-deckchair foot massages or the chance to stretch out for a full-body massage on big throws on the ground. Because Bangsaen is a Thai holiday beach rather than one that sees many foreigners there is no hard sell and this really adds to the chilled-out, no pressure vibe of Bangkok's nearest beach.
There are cheap but clean places to stay at one end of the beach near to the night market and along the beach road is probably the most upmarket hotel, Tides, which has a swimming pool and lots of green grounds. At the other end of the beach road the road continues down the beachfront and there are a couple of restaurants with live music. If you follow the beach road round and away from the beach there are a few bars and some clubs. However, unless you are under 25 you might feel a little out of place in this small stretch of nightlife. Bangsaen is a university town and the student vibe adds some nice energy to the area but the crowd is young and of the same ilk.
Nobody comes to Bangsaen for the nightlife though so the fact that young student types are drinking their first beers down the road is neither here nor there. At the other end of the beach road, right by the sea, there is a night market which offers the ideal end to a day on the sand chilling out. Unlike many markets in Thailand and around the world that sell lots of tat, there are some quirky and interesting stalls at Bangsaen's Walking Street. It has more of an artsy feel to it but still sells the usual sunglasses, slippers you cannot walk in and lots of things you simply do not want or need. A huge stage with open area in front is often playing out classic Thai pop with famous singers visiting more than once in a while.
In the market near to the seawall, you can sit on mats on the floor with low tables and eat grilled salted fish, order good Thai food from the menu, or bring your own food from the many food stalls selling snacks. This is the type of place where you can bring a bottle of whisky from the shop, or order a bucket of ice and some beers, fill the table with sharing snacks, and relax into a cheap and cheerful night out Thai-style. Of course, whilst everyone else seems to be able to sit perfectly comfortably on a mat on the hard floor, unless you are used to it you might have to do lots of shifting around or even bring a cushion so you can sit for longer. There are some restaurants around including somewhere to eat just opposite in the Sez Hotel, but you might enjoy just snacking as you walk around the retro stalls.
The real beauty of Bangsaen is that it does not have the classic good looks that Thai beaches are so renowned for, and it doesn't pander or seem to be even aware of the tourist from abroad. Because of this it has a unique character that is authentic, relaxing and totally Thai.