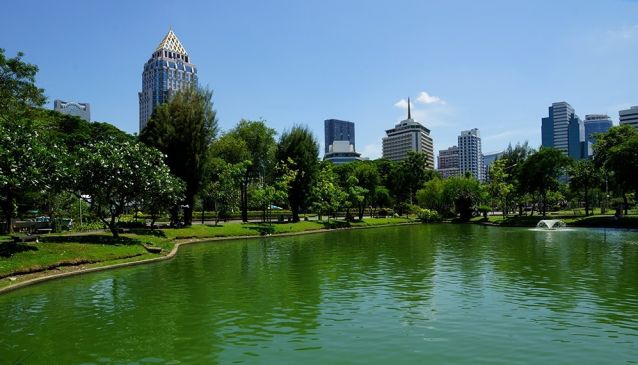 Green Bangkok
Editorial
You will definitely need a breather, to escape into some of the surrounding green spaces.
Bangkok is an assault on the senses with its dynamic energy and fascinating city buzz; world class restaurants, a heady mix of bars, pubs and nightclubs, temples and river boats. It is an exciting urban capital and the heart of South East Asia and definitely worth spending a longer visit than a quick stopover on the way to the beaches down south. Whilst exploring the culture of this exciting metropolis and pounding the chaotic streets, you will definitely need a breather to escape into some of the surrounding green spaces. If you know where to go then you can find your own oasis right in the city.
Perhaps the most well-known park, slap bang in the city, is
Lumpini Park
. Around 142 acres of green grass, and water, one of Bangkok's biggest parks has big open spaces and playgrounds, and you can while away a few hours at least hiring a bike and cycling around the wide, flat pathways, or rent a boat for some real peace and quiet on the park's lakes. Joggers, families relaxing on mats on the grass sleeping, reading and eating, and people working out on exercise equipment, create a real community feel at Lumpini, and at sunset you can take part in or simply enjoy the spectacle of free open-air aerobics which attracts big crowds and is a sight to behold. Just a hop and a skip from busy
Silom
with its markets and thronging street life, Lumpini is a perfect holiday retreat in the city.
Fountain shows just before sunset and in the early evening are attractively displayed at the front of Benjasiri Park, whilst just inside a small group make graceful Thai Chi style movements with a daily fan dance lesson. Benjasiri Park has a magical, mellow feel to it, especially just before the sun goes down. After a day out on Sukhumvit or a visit to Emporium, the upscale mall and department store next door, it is the perfect place to just take a minute or two away from the bustling Bangkok streets. At the back of the park small aerobic sessions play out at this time too which is typically Thai and always interesting to watch. There's a small skate park and courts where young men show their innate Asian flexibility and agility with energetic games of takraw, where a rattan ball is kicked over a volley ball net. Two newly built playgrounds with winding slide tunnels are found at either side of the park and there is a swimming pool hidden at the back which few people seem to know about. When the sun starts to go down locals limber up and exercise on the outdoor keep-fit equipment and couples take romantic walks around the lake. Benjasiri Park feels like its own peaceful part of Thailand right in the city.
If you're brave enough to enter the exhausting heat of Chatuchak market, or JJs as it's locally known, one of the world's largest weekend markets, then you might need some green therapy afterwards, and luckily right nearby are three green parks which offer some respite from the chaos. As soon as you walk into Chatuchak Park, next to the market and the sky train station of Mo Chit, you'll be offered a rattan mat to rent for however long you want to. With food vendors nearby you can grab a few snacks and settle down on the grass and any kids can run around the playground. With people constantly walking past to and from shopping it's great for people watching but not the most chilled-out space.
Right next door is the much more peaceful Queen Sirikit Park which has a regal charm to it with a huge lake with flowering trees, a botanical garden with exotic, exquisite flowers and rare plants, and lotus plants and water lillies. With waterfalls, a garden full of trees, and walkways, Queen Sirikit is also home to the Children's Discovery Museum with indoor exhibitions and an outdoor activity area. This park is undoubtedly one of the best places in Bangkok to see some much-needed nature, stroll on a leisurely walk , or snooze in the shade whilst kids are entertained away from the city streets.
Rot Fai Park is also in the Chatuchak Park area too and is 148 acres of green and is the ultimate park for picnics and younger visitors. The park is home to the Bangkok Butterfly Garden where you can admire many different butterfly species flying freely as you walk through the butterfly dome. Hiring bicycles in the park is the best way to really explore and for lunch there is a picnic area right next to the lake but throughout the park you can settle down under the shade and it is a good idea to bring a blanket or a picnic mat to sit on. A somewhat strange area of the park is where kids learn about traffic signs and take a ride in pretend traffic, which is perhaps preparation for local children for when they take on the real streets of Bangkok. Rot Fai Park has it all, including a sports centre with tennis courts and a swimming pool, and cycling through the green surroundings you can forget you are even near to the city.
Green Bangkok exists if you know where to look and, like with so many other things, the city doesn't do things by halves; these big expanses of green are refreshing and the perfect way to take some time out from the rollercoaster ride that is Bangkok. Thais like to sleep, eat and relax on mats in the shade whilst the sun beats down; in joining them for a few hours, you get to see a far more sedate version of the city where kids can run around and adults can take the weight off their weary holiday feet and be totally relaxed, or as the Thais say, sabai-sabai.