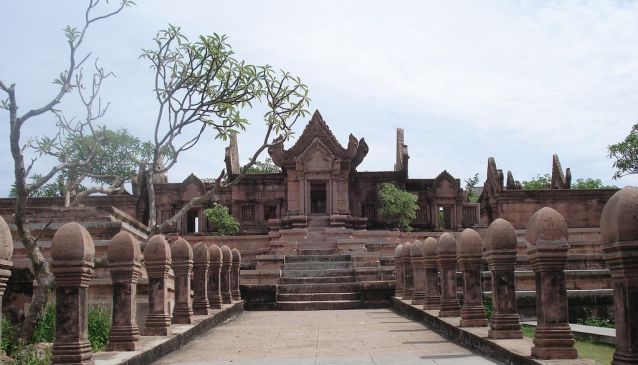 Ancient City
Arts & Culture
You really can 'do' Thailand in a day with a visit to the hidden gem that is Ancient City.
It is the promise of a glimpse of Old Siam with its glorious temples, rich and spiritual arts, culture and customs, and intriguing history, along with the heart and soul of the country's deep Buddhist beliefs that draws people to Thailand. There is something exotic and artistic about the country's heritage that resonates with visitors from all over the world. The Bangkok of yesteryear can still be found crouching next to the big, modern city skyscrapers, and hidden down quiet side streets, as well as within the people themselves. Outside of the city, the rural landscapes and the old capital of Ayutthaya, as well as the beautiful city of Chiang Mai, are more than echoes of a time gone by but really of a time that still exists.
And yet how can you see it all?
Unless your trip involves a long and possibly winding road around Thailand then you might think that you can't. But you can definitely get a sense of it. If you want to get a close up look at what Thailand's ancient monuments and important landmarks look like, without straying too far from the capital, then you really can 'do' Thailand in a day with a visit to the hidden gem that is
Ancient City
. Less than an hour out of
central Bangkok
this quirky and intriguing open-air museum is set over 240 acres with smaller replicas of 116 important ancient sites around the country. The layout matches the map of Thailand with each of the sites situated in the same geographical location as the real versions are throughout the country.
The Ancient City is nothing like an outdoor miniature toy country though and these replicas are stand-alone incredible works of art and architectural marvels. Far from being teeny tiny they are impressively large too, and you can walk amongst the huge Buddha stone statues or into the ornate interior of ancient temples and palaces, and truly soak up the atmosphere of this totally unique homage to Thai heritage.
Being in the open-air, away from the busy city, and being able to interact by walking around and into the different sites makes Ancient City an appealing and really enjoyable day out too. You can hire bikes to cycle through 'mini-Thailand' and simply hop off at whatever historical landmark takes your fancy. More fun though is to hire a golf buggy and whizzing towards the Three Pagodas Pass by Kanchanaburi, an area renowned for the building of the Death Railway and the Bridge over the River Kwai will get you there quicker, even if it does feel a little surreal. Or you might find yourself reversing away from the ancient Lanna temple of Chiang Mai's Seven Spired Pagoda before heading back down towards Bangkok.
The Ancient City was born out of one man's desire to preserve and educate people about the country's past so that they could bring that sensibility into the present day. The attention to detail is more than impressive and the jewel in the crown of Ancient City is The Grand Palace which is an example of the traditional palace, which varies from The Grand Palace that you can visit by the river in Bangkok for real.
Traditional Thai homes with original artifacts and an old market town area allow you to step back in time and modern Bangkok seems a million miles away. There's even a floating market where you can cross walkways and stop off for lunch or a snack by the water. Local legends are expressed through magical gardens and statues and Ancient City is full of big green spaces and quiet, peaceful corners where you can really soak up the atmosphere and immerse yourself in another world.
If you tire of tourist laden areas and attractions simply set up for visitors then Ancient City is a wonderful refreshing change. There is nothing gimmicky or tacky about it and its purpose is to show the splendors of the past and preserve the ancient art and culture of what was once Siam. There are never huge amounts of visitors and so you can amble around and get lost in these peaceful wonders of Thailand without bumping into lots of other people doing the same thing. Ancient City is a tourist attraction that doesn't set out to be one and where it really succeeds is in its heartfelt mission to open the door to the heritage of Thailand. Away from the modern buildings of Bangkok and the paradise beaches of the Thai islands there is another side to Thailand which you might want to see and after a day at Ancient City you will no doubt feel that your one day tour around Siam has been well worth the trip.